Are the Boat Ramps Open?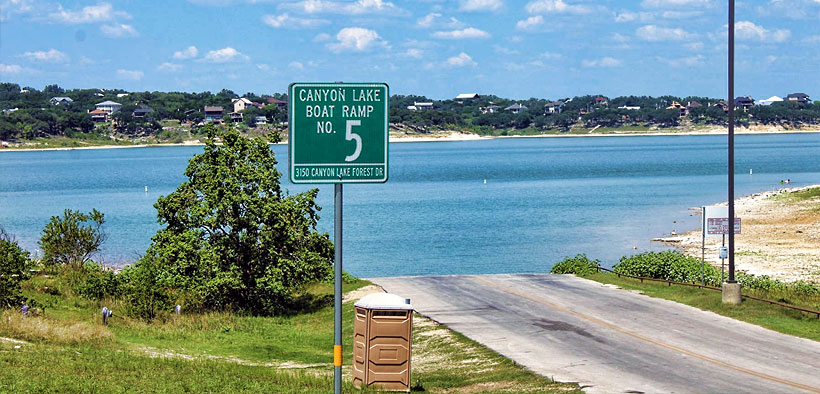 Expect some weather-related closures this weekend as lake levels rise.
"Are the boat ramps open?" is the number-one question visitors (and more than a few locals) ask each week.
Canyon Lake is above full pool of 909.00. Expect release rates to rise to 3,000 cubic feet-per-second (cfs) by Friday evening. Shoreline conditions can change rapidly. Boaters and jet skiers should exercise extreme caution as some park infrastructure is now underwater.
Ramps #17, 21 and 10 are closed. Jacob's Creek, Comal and Potter's Creek parks are closed.
Click here for current status on all of the nine boat ramps maintained by Water Oriented Recreation District. Click here to see an aerial view of the ramps.
About the Ramps
Canyon Lake boasts several marinas, yacht clubs and a ski club.
Amenities for boaters include 23 public and private boat ramps for easy access to the water. The lake has 22 ramps, one of which is upstream on the Guadalupe River leading into the lake.
The Army Corps of Engineers provides three downloadable maps that include locations of ramps only, ramps and fish attractors, and depth contours. Also provided on its website are a list of Comal County Ramp and Corps Park and Ramp closures. To see these maps, click here.
List of Legal Boat Ramps
Don't get confused! The Army Corps of Engineers, Texas Parks and Wildlife and Comal County name some of the ramps differently.
Here is a list of all known, legal boat ramps on Canyon Lake with the most commonly used known names for cross reference. Click here for more information. Fees are free or less than $10. Some ramp fees are including in camp fees. Several parks are for registered campers only.
Public
An entrance and/or boat ramp fee is charged at most parks in Canyon Lake. To find more information about boat ramps located in one of the seven major parks operated by Army Corps of Engineers, click here then click on one of the points on the map or a name in the chart shown on the Texas Parks and Wildlife Department's list of public access facilities.
Private rentals and marinas
Canyon Lake and Cranes Mill marinas are two of Canyon Lake's premier boating and recreation spots. The family-oriented, full-service marinas provide fun and memorable experiences. Boat and water craft rentals are available. For more information, click here.
Watercraft Rentals has a fleet of top-of-the-line watercraft including pontoon boats, ski boats and deck boats. Kneeboards, wake boards, skis and ski vests are included in all ski boat rentals. For more information, click here.
Canyon Lake Adventures offers jet ski rentals, boat rentals, pontoon party barge rentals, parasailing, jetpack rentals, Texas iFloats, sunset tours, kayak rentals, sup rentals and house boat rentals. For more information, click here.
Cross Wake Marinas Accessories provides boat, jet skis, pontoon boats, rising boats, water-propelled jetpacks, boat accessories, Uhauls, flyboards and Texas iFloats. For more information, click here.
Sunchaser Marina sells and rents boat equipment and supplies, boat storage, boat maintenance and repair, marine equipment and supplies.